Testimonials
What clients say:

March 18, 2008
Tracy,
I've been wanting to e-mail you to send you our heartfelt thanks for working with Billy and I and GG. I have learned so much from you how to handle GG and because of that GG is becoming a wonderful dog. She still amazes me with her intelligence. She remembers everything during the session. I am more relaxed when I take her for a walk on a leash - we are both enjoying our bonding. She has tested us several times when we want her to come after being outside. Billy and I tried your advice about totally ignoring her and Billy and I played catch with her tennis ball and having a good time and would you believe, she came and stayed with us. We've also tried to get her in the house from the outside with treats and that works too. She can be running like a crazy dog outside and when I tell her firmly to sit - she sits down right away.
She really has impressed a lot of our neighbors and her Vet asked me for your card to post in their office. Do you think GG needs another session? I can honestly tell you that we didn't know what to expect when we made the first appointment with you but it has been a wonderful experience for us and it has made our life with GG a pleasure!!!!! Thank you, thank you so much.
Billy and Fe
July 12, 2007
Tracy,
On behalf of the Rescue (Brookline Labrador Retriever Rescue) and myself personally, I just wanted to take a minute to say thank you for all your help with the Rescue, particularly hosting our dog bite workshop at your home, evaluating some questionable dogs, and helping us to get our shelter evaluation certification program off the ground. These things have been invaluable to our Rescue!
I have enjoyed meeting you and listening and learning from your wonderful presentations. I wish you the best of luck in your new ventures in Texas!
Marie Krout
Senior Volunteer/BAC
Brookline Labrador Retriever Rescue (PA)
July 11, 2007
Thanks for all your support to Brookine over the years. For all of us who are dedicated to rescue, we recognize the value in partnering with folks of your expertise. How lucky the folks in TX will be to have your support too!

Karen Barry
Brookine Labrador Retriever Rescue (PA)
January 7, 2004
Tracy, honestly, your forte is effectively communicating what dogs think, how & why they act (misbehave) and so on to owners. Then you offer reasonable & practical ways to handle the problems. And finally, teach the owners how to work with the dog to accomplish new improved behaviors.
I have had dogs before but never understood why the dog misbehaved. Mocha was introduced to you early on-thank goodness!- and we have had more happiness and love for our growing puppy. Maybe we as owners were ready to be serious? I had taken an obedience class in Houston 15 years ago, used the choker chain method.... but my beagle never changed its terrible behavior. It was useless, we never understood why the dog acted in some ways, but you explained so much. Made us see life through the eyes of our sweet pets and gave us ways to deal with normal issues. You also make yourself available to boarding the dogs, working with them. It only takes 1 second to see how you interact with a dog to know you are fantastic. And it is amazing to hear you communicate with the dogs. The dog just instantly knows you are good, will reward for nice behavior and pay attention like never before. You are that good!
Actually, several people recommended you before we met you. I was very confident that you must be talented and respected by people in the know because 2 separate vets were able to rattle off your name without any hesitation.
Tracy, I don't know of anyone who handles dogs in the manner you do. There is no doubt that you are a well trained professional who is adored by her dogs and clients, and anyone seeking dog obedience assistance and boarding would be wise to seek your services.
With highest praise,
Sara E.

February 23, 2002
Dear Tracy & Bob:
Thank you to you and your entire staff for your good-natured support and guidance with Maggie. Robert still can't believe she actually graduated!! At times I wondered if it was worth keeping this dog, but she has at least figured out who's boss and is certainly manageable. We still have things to work on, but now we know how to go about it. Our kids were even able to learn the simple, common sense training procedures. Thank you for encouraging us to stick with it. It was definitely worth it!!
Thanks again, and I'm sure we'll be in touch for a tune-up.
Patty F.
P.S. The Gentle Leader must have magical powers!

Patty's comments on January 7, 2004
Hi Tracy:
Sure, you can use my comments. Maggie is fine. She is still a terrier - barking at squirrels, spirited, zest for life, strong-willed, etc., but she is quite obedient. When we say "eat" she sits and waits calmly for us to feed and water her, she waits on the carpet when we answer the door (we have to remember to go back and release her - she will wait a long time), and she knows not to go upstairs or in our bedroom. She likes to do tricks too (for treats of course!). You were so right - the dog is in it for the money! :) It really did take a good 2 years for the more difficult puppy behaviors to fade away. We still have to carefully manage the "happy tinkle" thing; it's really my only remaining annoyance, besides some barking.
Thanks again - you made a huge difference for us!!
Patty
January 20, 2002
Hi, Tracy! Remember me? I'm Chris Crockett, and my dog, Mandy (a bad-haired terrier) took beginner and intermediate lessons from you several years ago with our friends, Kathy and Abby Shelden. I live in Houston, now, and Mandy has just been cast as "Toto" in a Junior High production of the Wizard of Oz. We are very excited! She is doing great, loves to perform, and is continuing to learn new tricks for the production (it's a speaking part, so I taught her to speak on command.) My problem: I need to have her "escape" from the Wicked Witch and run off stage left. She'll come with a hand signal, but only if I can get her attention first. I'm wondering if a silent whistle would help? Any suggestions would be appreciated!
Thanks, Chris C.

Chris,
Of course I remember you! Who could forget you and Mandy?!
Try:
silent whistle
laser light (just point it on the floor and "draw" her to you by letting her chase it)
you could also practice getting her to move "offstage"
Suggestion:
Have whoever is on stage with her (or you could practice first) cast their hand towards offstage and toss a treat for her to fetch at the same time they make the hand gesture. This should cause her to start to run towards offstage to get the treat. Do this several times, tossing the treat further and further towards the curtain. Then make the hand gesture without the treat and see what happens, if she even remotely moves off stage, you say "YES" and reward her when she gets to you.
The Wizard of Oz was my favorite childhood movie! Good luck with "Miss Star"!
From, Tracy

March 25, 2002
Dear Tracy,
Thanks again for your help, Tracy! Mandy was brilliant, but exhausted by the end of the four performances. Now, though, she mopes around the house looking for me to pick up her "special" leash that we used on the production (a retractable that clicked onto her collar). I think she misses rehearsals, etc!
We finally staged a kid off stage holding a flashlight and calling her with treats. There was loud dialogue during the "run-aways" that covered the calling, and Mandy could see where she was to go, so it worked like a charm. She even went into the basket on the back of the bike and rode off stage with no problems, since a big meaty bone lived in there;-)
The only problem we had was that for the performances, we used REAL chicks for Aunt Em and Uncle Henry to count during the opening scene, and by the last 2 performances, Mandy had figured that out and muffed her entrance, running not to Dorothy in front of the curtain, but diving under the curtain to find the chickens!
Too bad they've cast the next "Benji"!
Thanks again, Chris

January 7, 2004
Dear Tracy,
Mandy and I are just fine! She is a bit put out that "Guys and Dolls" doesn't have a dog in the cast, but we still have our fingers crossed for "Annie" next year. Yes, you may use the e-mails. I enjoyed reading them again and thinking about those fun days. I hope all goes well for you in the new year… Chris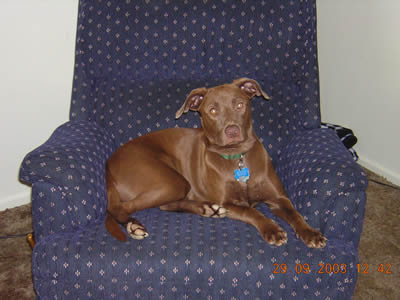 Shiner on the Recliner
August 31, 2003
Hey Tracy thanks for all you help. Here are pictures for you. Shiner is now 9 months old tomorrow. She's doing really well. Thanks for everything.
Wally, Crystal, & Shiner
November 29, 2006
Tracy,
We took Puppy training a few years back in Texas with Wally, Crystal and Shiner.

I have been reading on your web site but would like a little help.

We just moved from the place where Shiner has lived since she was 8 weeks old (into a new house with a nice yard and plenty of room). She sayed in a crate until she was about two year old then once we felt we could trust her in the house we let her have free roam. Although we still left her Crate out and she still sleeps and lays in it we just did not lock her in it anymore.

Now that we moved and built a new house it has been difficult for her. Crystal and I both work 7-5 Monday - Friday. She used to be ok when we left her but now you would think someone was puller her toes off. We went back to putting her in the crate becuase we knew this would be difficult for her and we did not want her to destroy or soil a new house.

Other than behavior modification not getting really excited with her when we get home and making a long good bye when we leave is there anything else we can do. When we leave its not just a bark and a wimper, she almost sounds like a three year old throwing them self on the floor and screaming at the top of her lungs. She is also panting and drooling a lot becuase her blanket is wet when we get home.

I do not want to really give her medicine but I think I remember you talking about a vitiman that can help releive stress?

Any other ideas. Thanks for your help.

Thanks a bunch, we still use your information all the time, and we have a dog that EVERYONE wonders how she can behave so well. We just tell them she's that smart ;)

Thanks,

Wally


November 29, 2006
Dear Wally,
Here are some ideas to try.

Bach's Rescue Remedy
You can google it for basic info, but basically it's only counter agents are strong flavors like mint (which most dogs don't have). It also has no counter indications for medicines, so it won't affect or be effected by medicines.
Give 3-4 sprays in her mouth (it comes in a spray bottle), or in her water dish, three to four times per day. Because you work, you might spay it in her mouth, then spray the water dish, then a third dose when you get home and one before bed. If you are to see changes they will happen in a week or so. This product will actually help eliminate the panic she feels.

Bow Wow Botanicals - Mellow Dog Biscuits
These things (if she'll eat them!) are amazing! My dogs don't like them, but with a bit of peanut butter, they'll eat it. They are herbal (so they may have counter indications with meds) but they do work great and usually fast. She will need 3-4 at a time for her weight, but I found they really do help.

I do, however, think you will find the use of a trainer, specializing in behavior helpful. If you think you'd like some suggestions, let me know.

I'm sorry to hear sweet Shiner is having a problem, but I was happy to hear from you.
Tracy Atkins, Head Trainer


December 27, 2006
Tracy,
Wanted to let you know how all this has worked out. Suprisingly our spastic dog actually calmed down. She still has her moments where she seems to throw a fit and nothing will stop her, but they are not as bad as they once where.

In fact the other day I woke up sprayed her two times with Bachs got a nice meaty treat out of the cabinet and walked around with it in my hand for about 5 minutes. Asked her to go to her room then I gave her half the treat, shut the door gave her the other half and walked away. Not a bark or a whine or anything.

Even with everything else she is getting more calm, she will actually sit in the backyard by herself.

We really appreciate you treating us so well. We could not have asked for a better person to get in touch with to help train Shiner. Wish you where still down here!!
Thanks,
Wally, Crystal, & Shiner



Your experiences with Complete Canine Training mean a great deal to us as well as prospective clients. We continue to welcome client updates, challenges and accolades!
Thanks, Tracy