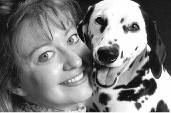 Tracy Atkins, Head Trainer
Photo with Heiki
Tracy Atkins has been training dogs since 1989. In 1994 she founded K-9 Solutions of McKinney, Texas. In 1997 she earned the title of Head Trainer for Complete Canine Training, Inc. Through group classes, private training and board and train services, she has assisted thousands of dogs and owners gain skills to deal with every problem from general manners to serious dog aggression. In September, 2007, she relocated with her family to Spring, Texas.
Tracy applies a wholistic approach to problem solving. Using eclectic techniques, knowledge and experience, she is able to direct appropriate and complementary training regimes for each individual dog and owner. She believes that the art of dog training lays in the advanced science of behavior.
Her vast list of clients include professional athletes, entertainment producers, children's television creators, prominent business people, veterinarians, retired couples, stay-at-home parents and everyone in-between. Tracy is respected by her clients due to her ability to diagnose, and explain behavioral or developmental issues. Her focused, fun, clear manner makes it easy to follow her program to achieve rapid results.
Her specialties include, but are not limited to, problem behavior evaluation and training solutions; resolving behavior problems stemming from health issues and dog training for new parents and parents to be.
Tracy honed her craft in dog training with Southwest Guide Dog Foundation, Guide Dogs of Texas in 1990. There she offered her skills as a Puppy Walker, Puppy Walker Supervisor, Dallas/Fort Worth Volunteer Coordinator and Guide Dog Puppy Evaluator until 1994. She continued to serve as a lecturer and Combined Federal Campaign Fund Raising Speaker for the school until 2002. Under Tracy's supervision, Complete Canine Training, Inc., served as the North Texas information center for the guide dog training school until her maternity leave in 2003.
She has earned a Certified Dog Trainer, CDT from the International Association of Canine Professionals. She is an American Kennel Club Canine Good Citizen Evaluator. She is also a member of the American Dog Owners Association. She adheres to both a Breeders Code of Ethics as well as a Trainers Code of Conduct.
She has been a member in good standing of the American Belgian Malinois Club and Southern States Rottweiler Rescue She has served on the Board of Directors for the Dallas/Fort Worth Rottweiler Club, as well as consulted for and assisted Dallas, TX and Lancaster, PA area dog rescue clubs, shelters and organizations with dog training and evaluations.
She has been a routine guest lecturer for the Psychology Department of the prestigious Franklin and Marshall College in Lancaster, PA, instructing students of both human and animal behavior the practical application of operant conditioning.
She continues to offer lectures speaking about Aggression Evaluation, Avoiding Dog Bites, Equipment Use and Misuse, New Pet Selection, House Soiling Prevention, Puppy Handling and Training and Solving Behavior Problems to humane and rescue organizations, dog training clubs and veterinary hospitals.
Tracy, her husband, Bob, son, Thomas, and daughter, Celeste, reside in Spring, Texas. She is currently owned by "R.E.D.I.E." (Really Energetic Dog with Incredible Energy) a four year old, terrier mix and Willing "Will" a two year old, Labrador Retriver/Great Dane mix.
Breeds Tracy has worked with - Is your dog on this list?